NASA Satellite Image of Arctic Clouds
1900s
Anthropogenic climate change begins to seriously threaten the globe. In a process of "polar amplification", the Arctic is particularly vulnerable to rising atmospheric CO2 levels and increasing global average temperatures.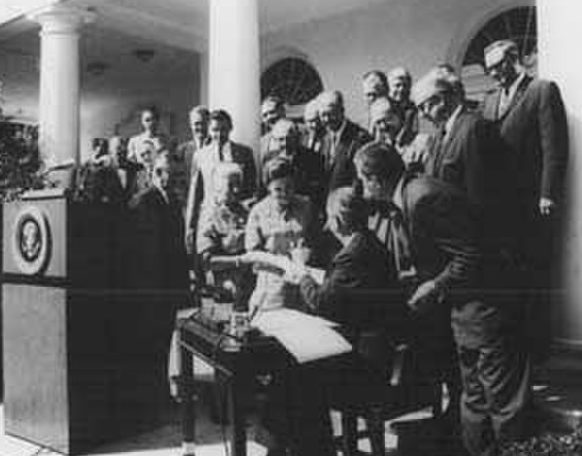 President Lyndon Johnson signs the Wilderness Act of 1964
1964
The US Wilderness Act is passed, setting 
a precedent for prioritization of future nature preservation. Its aim is to protect large areas of land of particular cultural, scientific, or natural interest having suffered minimal human impact.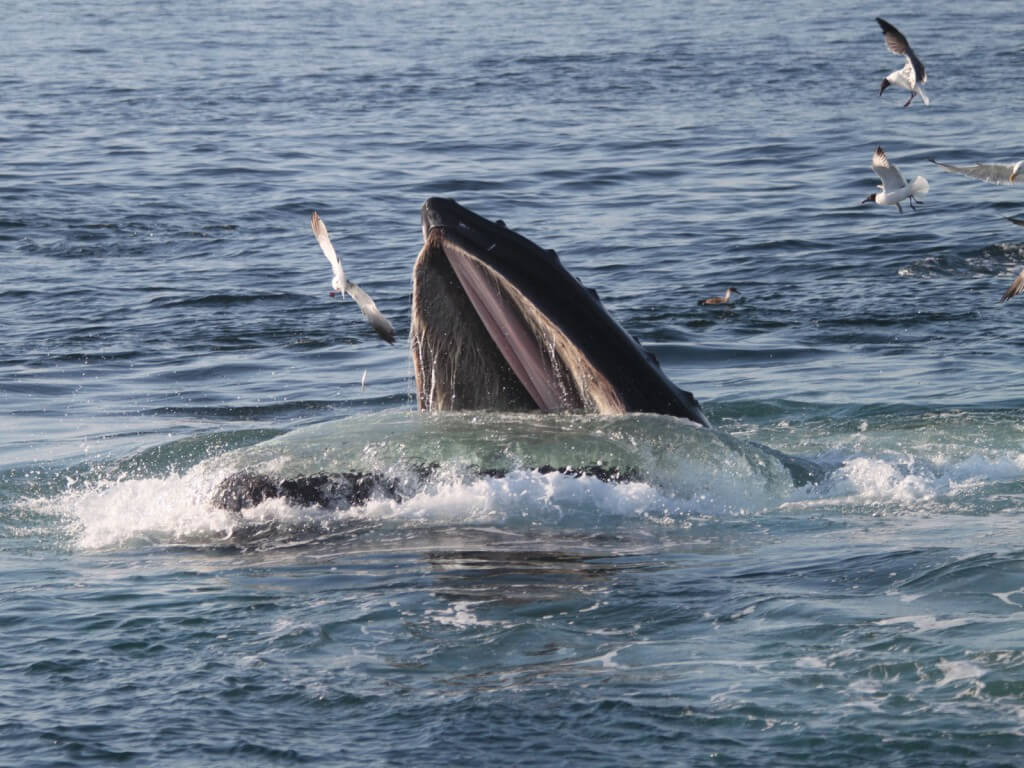 Humpback whale in Stellwagen Bank National Marine Sanctuary
1972
The Marine Mammal Commission is created. The commission seeks to support research, environmental monitoring, and international collaboration on policy and management strategies.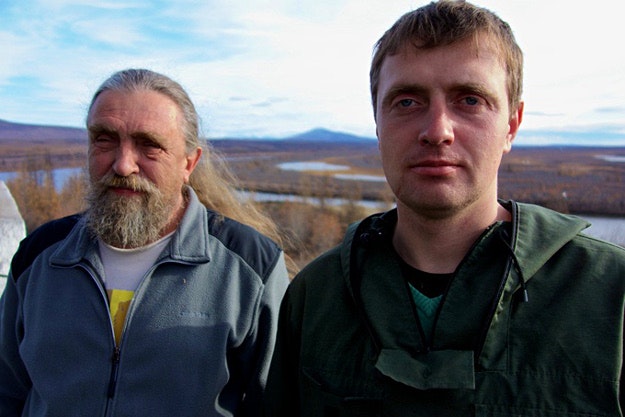 Sergey Zimov with Son Nikita
1980s
Russian geophysicist Sergey Zimov proposes to rewild a region of northeastern Siberia. The first grazing experiments are begun as Yakutian horses are reintroduced in 1988 around Chersky's Northeast Science Station.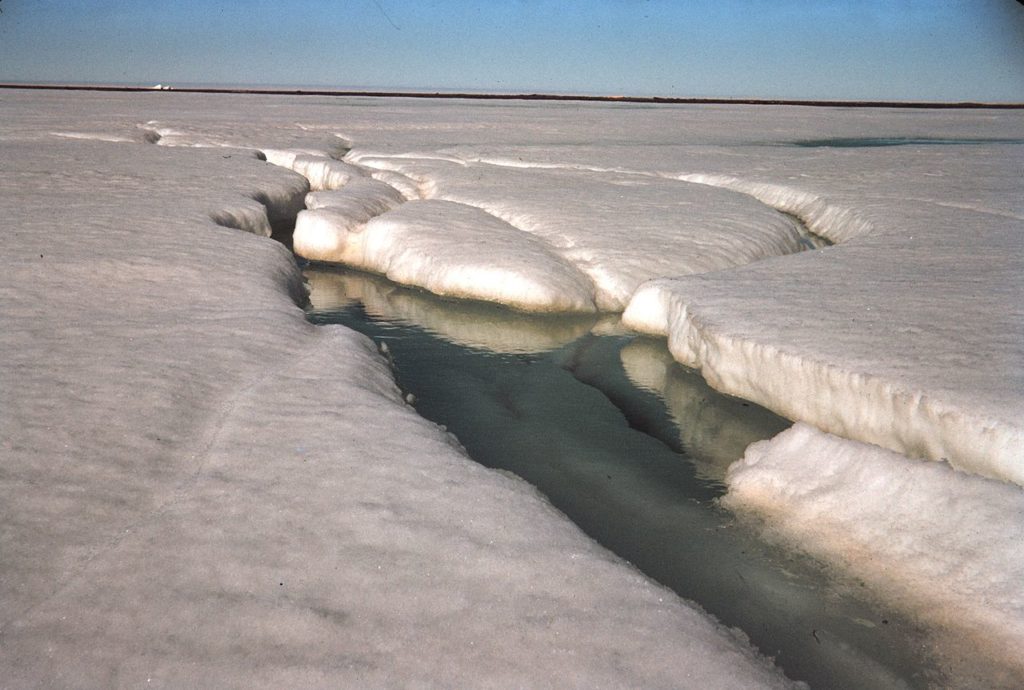 Arctic Landscape
1991
The Arctic Environmental Protection Strategy is developed. Finland initiates a summit uniting the environment ministers of all eight Arctic countries which results in its establishment. Under the 1996 Ottawa Declaration, this coalition subsequently turned into the Arctic Council, today an intergovernmental forum facilitating the cooperation and coordination of the Arctic states and their indigenous communities. The Protection of the Arctic Marine Environment (PAME) working group of the Arctic Council is established. One of the Arctic Council's 6 working groups, it aims to focus on all dimensions of sustainable development.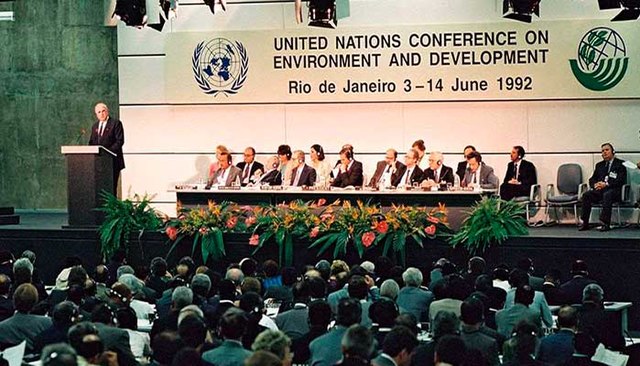 The Rio de Janeiro UN Conference on Environment
1992
The Convention on Biological Diversity is ratified. A product of the Rio de Janeiro United Nations Conference on Environment and Development, this multilateral treaty seeks to conserve and ensure the equitable use of biological diversity. The WWF's Arctic Program is established. Its vision is to educate scientists, policy makers, and the public about Arctic environmental issues. It remains the only Arctic environmental NGO with observer status at the Arctic Council.
Polar Bear in the Great Arctic Reserve
1993
The Great Arctic Reserve is created in Russia. Spanning over 16,000 square miles within the Taimyr-Central Siberian tundra, it harbors polar bears, reindeer, Arctic foxes, snowy owls, belugas and walruses.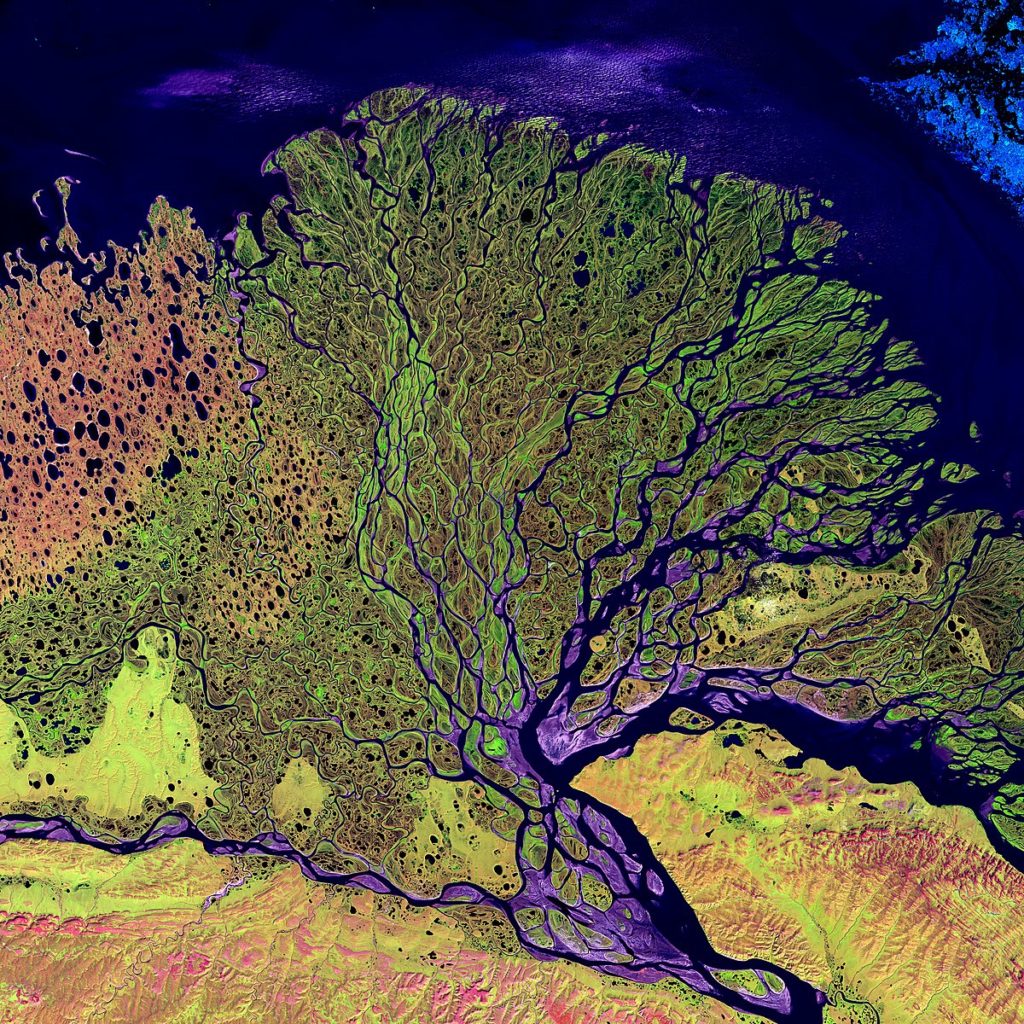 Satellite image of the Lena Delta
1995
The Lena Delta International Biological Station is opened in northeastern Russia. This station is to be used as a platform for environmental monitoring of Arctic ecosystems. A primary nesting spot for migratory birds, the Lena River Delta harbors a wealth of flora and fauna, providing an important vantage point for research.
Flower in Kytalyk Wildlife Reserve
1996
Russia's Kytalyk Resource Reserve is established. A cooperative effort between the government and local Indigenous groups, the region is one of most important natural areas of the Eastern Palearctic biogeographical zone and includes both tundra-based ecosystems alongside swampy terrain of scientific and educational value.
Image of NWT protected territory
1997
Canada's Northwest Territory Protected Areas Strategy is passed. A product of a meeting between the governments of the Northwest Territories and Canada, the strategy aims to establish a network of protected areas. The Canadian government has committed to protecting 25% of its land and freshwater by 2025, vast swaths of which sit within the Arctic circle.
Map of Arctic regional tourism traffic
1998
An international plan for sustainable Arctic tourism is crafted. Arctic Council (including WWF)-spearheaded efforts culminate in a 2006 report laying forth resources, tools, and general guidelines for a Sustainable Model for Arctic Regional Tourism for tourism operators and other stakeholders. The term "Rewilding" is subsequently academically defined by American conservation biologists Soulé and Noss as a conservation method focusing on "cores, corridors, and carnivores".
Bison in Edéhzhíe Protected Area
2003
The Dehcho First Nations and the Government of Canada withdraw almost 4,000 square miles of land from industrial development. Efforts building upon this subsequently culminate in the establishment in 2018 of the 5,000 square mile Edéhzhíe Protected Area, home to caribou, bison, wolverine, peregrine falcon among others.
Wild Koniks in a rewilding area of the Netherlands
2005
A controversial Nature commentary piece advocates for the 'rewilding' of North America. Rewilding is defined as the restoration of large wild vertebrates into North America, using as reference the end of the Pleistocene era, 12,000 years ago, when horses, camels, and American cheetahs roamed the Great Plains. On an annual basis since 2005, at least one academic article using rewilding to mean the return of Pleistocene megafauna has been published.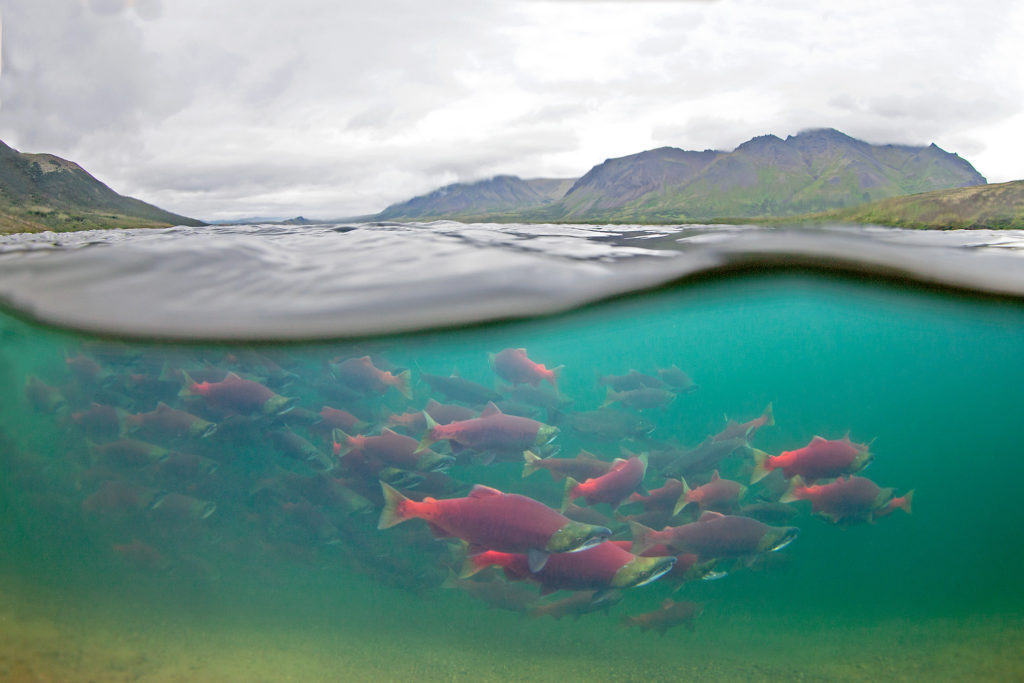 Salmon swimming in Bristol Bay, Alaska
2010
Bristol Bay in Alaska is removed from an offshore oil and gas leasing plan. In 2014, 52,000 square miles of Bristol Bay, which supplies 40% of American wild-caught seafood, are permanently removed from oil and gas exploration and drilling. The National Aeronautics and Space Administration (NASA) conceives of its Arctic Boreal Vulnerability Experiment (ABoVE) program. Focused on the arctic and boreal regions of Alaska and Western Canada, this decade-long field campaign is aimed at better understanding the areas vulnerability and patterns of resilience of primarily ecological, and secondarily social, systems in response to environmental changes.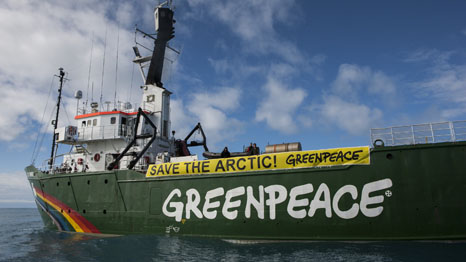 Greenpeace's Arctic Sunrise and crew
2012
Greenpeace's Save the Arctic campaign is launched. The campaign primarily aims to prevent oil drilling and unsustainable industrial fishing, as well as to establish a sanctuary in the Arctic high seas.
Map of the Arctic-Boreal Vulnerability Experiment
2015
NASA launches its ABoVE program. Field observations are combined with satellite remote sensing data in order to dissect the complex interactions between the drivers of change (e.g. CO2 levels, precipitation, fossil fuel consumption), their resultant impacts on ecosystems (e.g. levels of biodiversity, fire frequency), how this affects the way ecosystems serve human populations, and the end results on social systems (e.g. infrastructure investment, wildfire prevention programs).
Greenpeace protest against Shell's Arctic drilling
2016
The Obama administration implements a ban on any new drilling in the Arctic. The affected region spans federal waters off the coast of Alaska in the Chukchi Sea and most of the Atlantic's Beaufort Sea.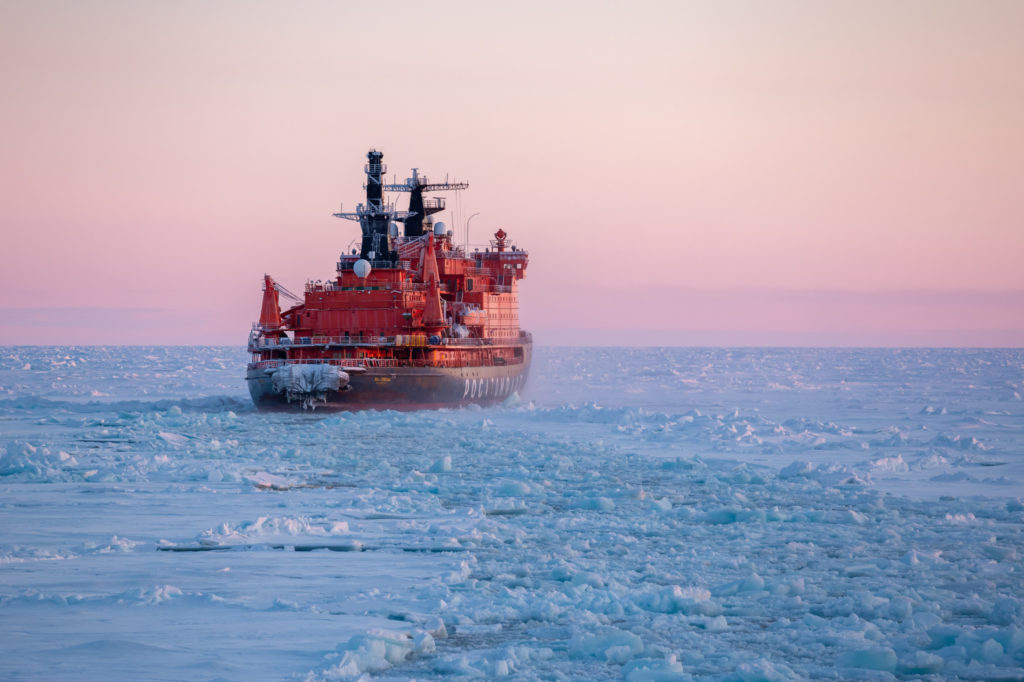 Shipping vessel in the Arctic
2017
PAME ensures safe and sustainable shipping in the Arctic. Working jointly with its Shipping Expert Group, initiatives include establishing the Arctic Shipping Best Practice Information Forum to support the effective implementation of the IMO's International Code for Ships Operating in Polar Waters.
Polar bears in the Tuvaijuittuq Marine Protected Area
2019
The Tuvaijuittuq Marine Protected Area is placed under interim protection. Located off the northwest coast in Nunavut, it is part of a large permafrost region harboring biodiverse seabed communities. In parallel, Tallurutiup Imanga National Marine Conservation Area is also slated to be formally established as a marine conservation area. Harboring many polynyas, or small pockets of ice-encircled open water, the region is an important refuge for marine and avian species in the winter. The Canadian government is to collaborate with local Inuit communities in the conservation of these regions' local biodiversity. Russia's Dvina-Pinega Nature Reserve is established. A total of 1,100 square miles of Northern taiga or boreal forest are thus protected, harboring the last large range of pristine forests in Europe.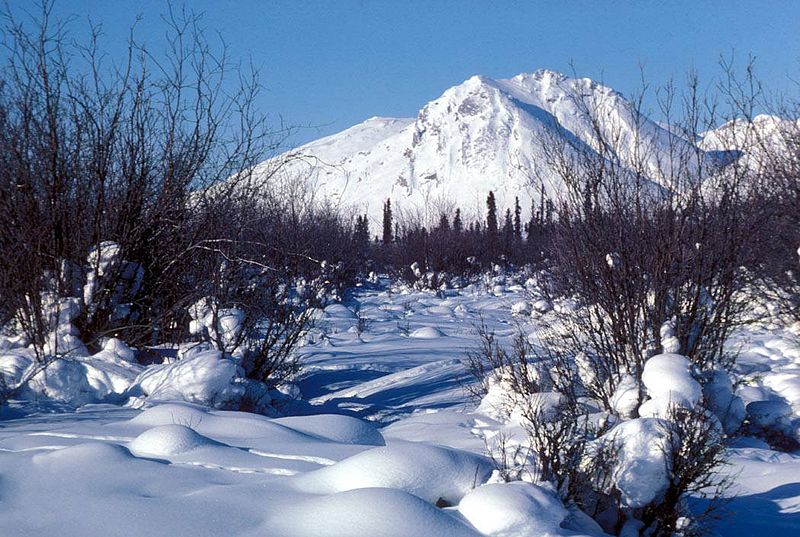 Arctic National Wildlife Refuge in Alaska
2019
Goldman Sachs stops funding drilling in the Arctic National Wildlife Refuge in Alaska. Additional large international corporations, including the Royal Bank of Scotland, will also cease to fund exploration in the area. Increasingly, sustainability trumps resource exploitation in international decision-making, hand in hand with a transition to renewable energy. PAME establishes a comprehensive Arctic shipping activity database. The database allows authorized users to track and analyze vessel traffic patterns, fuel use, and emissions, alongside other economic and environmental factors. PAME releases the first capsule hosting a GPS transmitter aimed at simulating the movement of marine litter throughout the ocean. The data is to buoy increasing awareness of Arctic marine litter.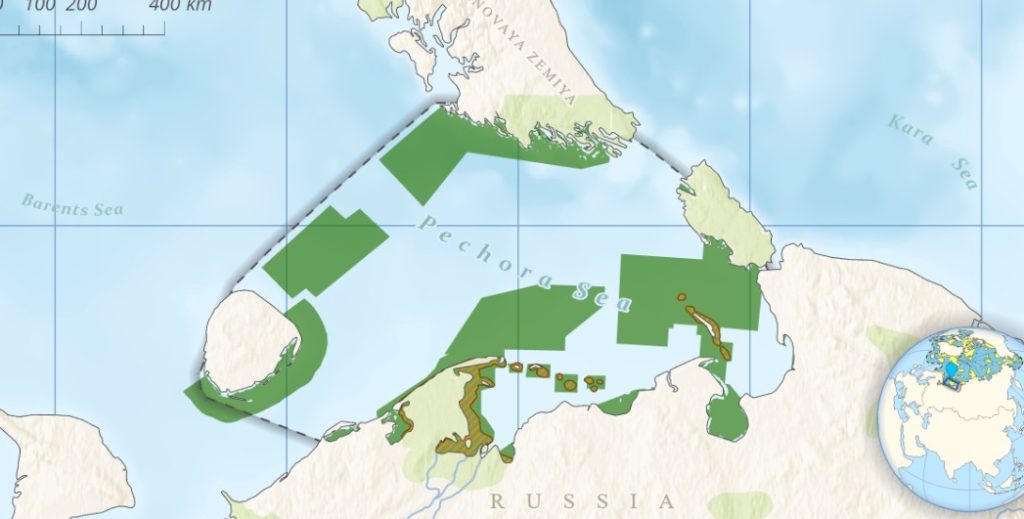 Map of ArcNet
2020
WWF's Arctic Ocean Network of Priority Areas for Conservation (ArcNet) is established. Its aim is to help governments and Arctic marine stakeholders strengthen Arctic marine life and ecosystems in the face of anthropogenic pressures. Bear Islands are protected as a nature reserve by the Russian government. Also known as Medvezhyi Islands, these harbor the highest concentration of polar bear dens from the Taymyr Peninsula to Wrangel Island. The waters surrounding the islands harbor seals and are visited by beluga whales, walrus, and sea lions.
Orca whales swimming in Alaska
2020
Noise is found to impact marine wildlife. Whales sing, click and whistle to locate food, raise their calves and find mates, and noise pollution has been shown to affect whale populations. The US Army Corps of Engineers denies a permit for the development of Pebble Mine in Alaska. This marks an important milestone in the midst of ongoing efforts to protect Alaska's oil-rich and environmentally vulnerable Bristol Bay.
Polar Bear mom protecting cubs in the arctic
2021
NASA launches Phase III of its ABoVE program, homing in on the synthesis and analysis of previously acquired data. Integrated modeling frameworks will be harnessed to predict social and ecological system trends, laying the foundation for the development of empirically based decision-making guidelines as regards environmental policy. WWF's new Arctic Conservation Forecast Initiative is launched. Its aim is to better understand Arctic environmental and ecosystem change by fostering discussion among climatologists, oceanographers, and biologists, building off the projections of the most recent numerical climate models (i.e. the Coupled Model Intercomparison Project Phase 6, or CMIP6).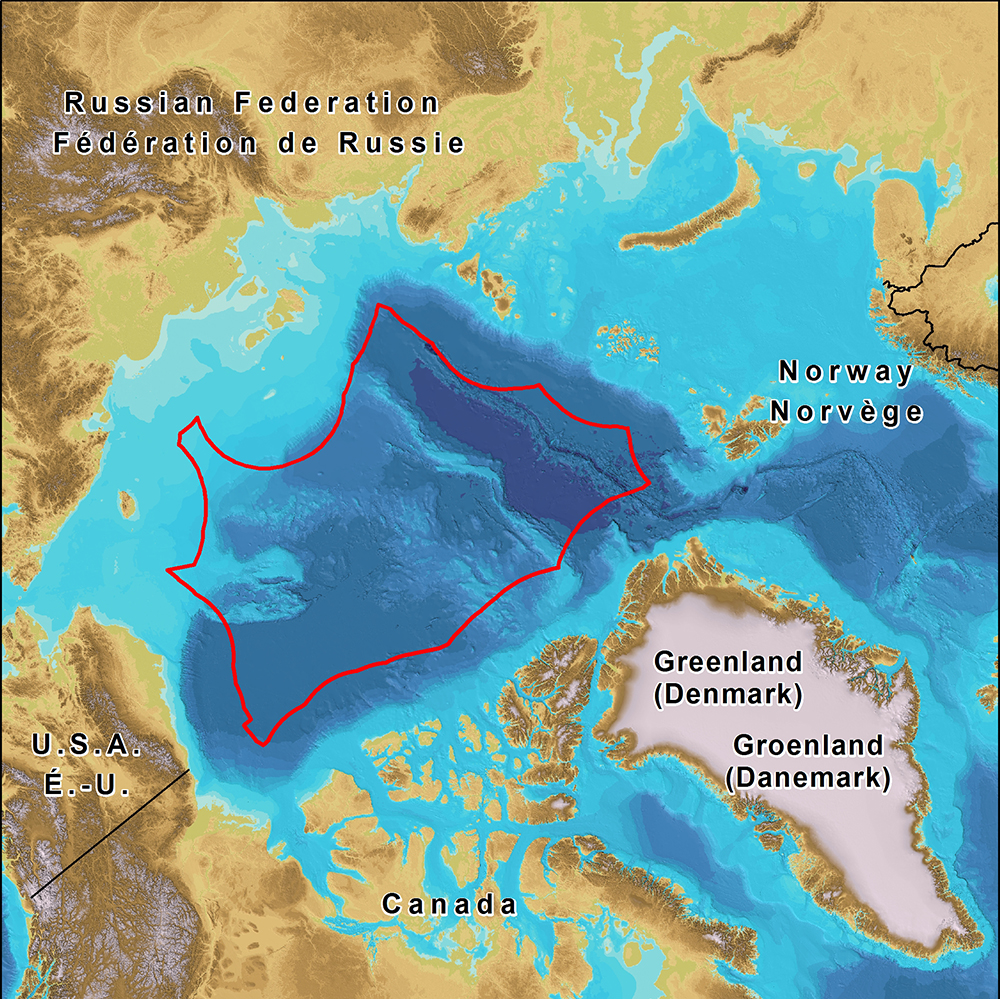 Map of fishing region of the central Arctic
2021
The Central Arctic Ocean Fisheries Agreement is passed to prevent unregulated fisheries in the Central Arctic Ocean's high seas. Rewilding matures into a center-stage international priority. A joint report published by the UN Environment Program (UNEP) and the Food and Agriculture Organization (FAO) advocates for the rewilding and restoration of an area the size of China. In launching a "decade on ecosystem restoration", UN calls for large-scale revival of nature across all ecosystems; as governments commit to restore nearly 4 million square miles of land by 2030, with similar goals for ocean restoration. The International Agreement to Prevent Unregulated Fishing in the High Seas of the Central Arctic Ocean is passed, preventing fishing in the Arctic Ocean's high seas for 16 years - signed by the US, Canada, Russia, Iceland, Denmark, and Norway, alongside Japan, China, South Korea, and the European Union.